Showcase
Cases In Connective Tissue Grafting
Connective Tissue Grafting
Case ID: 0678
Connective Tissue Grafting
Case ID: 0675
Cases In Crowns
Brighter & More Youthful Look
Case ID: 0672
Ceramic Crowns
Jill came to us to update her smile. She didn't care for the two-tone look of her front teeth and wanted a brighter and more youthful look.
We were able to place beautiful all-ceramic crowns on her front six teeth and give her a gorgeous new smile that she loves.
Confident Smile
Case ID: 0669
"Dr. Miller is more than a Dentist, more than a Cosmetic Dentist… the dude is an artist." – David
Tetracycline Staining
Case ID: 0663
Ceramic Crowns
Olia came to us not liking the tetracycline staining on her front teeth.
Due to the darkness of the staining, she was not a good candidate for veneers, since the color would show through those very thin wafers of porcelain. We completed two all-ceramic crowns to give Olia the smile she always wanted.
Beautiful Healthy Smile
Case ID: 0660
Porcelain Crowns
Problem: Tricia had spaces between her front teeth and extensive wear. She wanted to close the spaces, have a brighter smile, and stop the wear on her teeth for a more youthful look.
Solution: Tricia needed gum grafts to stop the recession and all porcelain crowns on her front upper and lower teeth. Now she has a beautiful healthy smile.
Porcelain Crowns
Julia was not happy with the appearance of her smile. Her old crowns were short and dark. Once we placed her new crowns, she could not stop smiling.
"I am so happy I found Dr. Miller, he is the best dentist I've ever had". – Julia
Cases In Full Mouth Rejuvenation
Restore Old, Failing Crowns & Improve Function
Case ID: 0687
Natural Beautiful Results
Problem: Gary had failing dental work that was placed 25 years prior to finding Dr. Miller. He was interested primarily in a long-lasting result to restore old, failing crowns and improve function.
Solution: Dr. Miller restored Gary's failing dental work with state-of-the-art materials that are designed to combine strength with naturally beautiful results.
Chronic Pain
Case ID: 0684
Poor Bite Relationship
Problem: Adam's poor bite relationship had led to chronic pain in his teeth and jaws, and caused severe wear to his teeth. As his teeth grew shorter and flatter over the years, his smile appeared less youthful.
Solution: Dr. Miller developed a plan to treat Adam's whole mouth. He is pain-free with a stunning smile even 6 years later.
Rejuvenated Smile
Case ID: 0681
Very Short Worn Out Teeth
Problem: Tyler presented with very short worn out teeth and multiple fractured fillings from a bad bite. He wanted to rejuvenate his smile and teeth.
Solution: Dr. Miller recommended full mouth rejuvenation with porcelain restorations. The result made Tyler look and feel much younger.
Cases In Gum Revision & Crowns
Ceramic Crowns
Brenda came to us unhappy with her old front crowns, they were too small, the wrong color, and she displayed too much gums when she smiled.
To achieve the best possible result we needed to start with gum recontouring and expose more of her existing teeth. Once that was accomplished we were able to replace her old front crowns with aesthetic new all-ceramic crowns that gave her the beautiful smile she always wanted.
Cases In Gum Revision & Veneers
Show Less Gums & Close Gap
Case ID: 0693
Porcelain Veneers
Problem: Lisa is Dr. Miller's office manager. She had helped many patients achieve beautiful smiles and decided it was her turn. She wanted less of her gums to show in her smile as well as have her gums to show in her smile as well as have her gap closed and a symmetrical smile.
Solution: After making a revision to her gum tissue, Dr. Miller placed 6 all porcelain veneers on her upper teeth. What a difference! Lisa is able to give a first-hand account of her experience and beautiful result.
Cases In Implants
Functional & Beautiful Results
Case ID: 0721
Problem: Hong came to Dr. Miller because her existing dental work was failing, including a bridge on her front teeth. Dr. Miller's diagnosis focused on the larger issues such as why Hong's previous dentistry was not holding up, rather than focusing on only isolated teeth. They agreed on a comprehensive, multi-disciplinary approach that would restore her entire mouth to a healthy and stable condition.
Solution: Dr. Miller and Hong worked together to find a solution that was sure to serve Hong long-term. Following important groundwork, Hong and Dr. Miller restored her entire mouth with porcelain crowns and implant retained bridgework for a functional and beautiful result
Dazzling Result
Case ID: 0696
Porcelain Crowns
Chi knew that her front teeth were loose and asked us to help give her back a beautiful smile.
We placed four dental implants and rounded out her smile with porcelain crowns on the adjacent teeth. What a dazzling result.
Cases In Veneers
Improved Appearance
Case ID: 0708
Porcelain Veneers
Vicki told us she wanted to improve the appearance of her smile. Her teeth weren't as white as they used to be and did not have an ideal shape.
She had us place porcelain veneers on her front teeth and now has a beautiful smile. She couldn't be happier.
"Gummy" Smile
Case ID: 0705
Gorgeous Result
Problem: Denise was unhappy with her "gummy" smile and short, worn off teeth. In addition, the old fillings on her front teeth were discolored and made her smile less bright.
Solution: Dr. Miller sculpted her gums and then placed 8 veneers on her upper front teeth. Denise is thrilled with the gorgeous result that changed her appearance dramatically. In fact, to improve her results, she is planning to proceed with veneers on her lower 8 teeth!
"Smile I Love To Show Off"
Case ID: 0702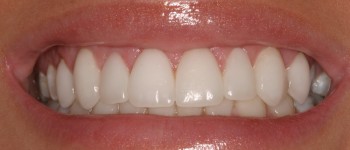 Porcelain Veneers
Meghann came to us wanting to redo her smile.
In order to accomplish everything that she wanted for her new smile, we needed to recontour and reduce her over prevalent gingival display. Then we were able to place porcelain veneers as the final step in her smile makeover. Meghann now has a smile that she loves showing off!
"My Smile Reflects How I Feel Inside"
Case ID: 0699
Connective Tissue Grafts & Porcelain Veneers
Sherri's teeth were too dark and looked worn. In addition, her gums were receding. She wanted a brighter, more youthful smile.
We covered the recession with connective tissue grafts and placed porcelain veneers on her front teeth. Now her smile reflects how she feels inside.